Malabar Mosque, known as the Golden Dome Mosque is situated at the corner between Victoria Street and Jalan Sultan.
This is the only Mosque in Singapore which is fully managed by the Malabar Muslim Community.This is the place where all our Malabar Muslims gather during Friday, Aidil Fitri, Aidil Adha or any other major functions. The new outlook of the mosque also attracts people from all corners.                                                                  
Building this mosque started in the late 50s by the Malabari Community who were headed by the Malabar Muslim Jama-ath (Association that leading all the activities organised in the mosque). Malabar Muslim Jama-ath was established in 1927 and was registered in 1929 and functioned from a shop house at Changi Road. The Malabar Muslim Jama-ath's office shifted to Bussorah Street and finally established at 471, Victoria Street where it is today.
After some period the Malabar Muslim Jama-ath with the help of the Malabar Muslims had a plan to build a mosque at Victoria Street. With this plan in mind, a stone laying ceremony was held on 10th April 1956 by the Mufti of Johor, Tuan Syed Alwi Adnan who had represented the Sultan Ibrahim bin Abu Bakar of Johor.
The constructions of the mosque which started in full force was slowed down due to the lack of funds. With the Grace of The Almighty God, the Jama-ath officials braved rain and sun, and put in all their efforts to collect funds for the completion of the project. Many Muslim and Non-Muslim friends supported in cash and kind and finally the mosque was completed. The mosque was finally declared opened on 24th January 1963 by the Yang di-Pertuan Negara, Encik Yusof bin Ishak, the first President of Singapore.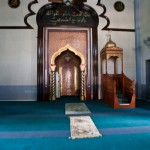 Singapore's rapid development and progress and the mosque's location in city area, had encouraged the Mosque and the Jama-ath Management Committee to renovate externally. Special designed tiles Gold/Blue colour were ordered, with the effort and hardwork of both management committees, the external renovation were completed. The location, design and color had attracted many tourists and passers-by. The efforts of the committees did not stop there, as a cost cutting measure on the annual painting, they decided to continue renovating the interior of the mosque. By 1995 the whole mosque was fully tiled.
The Malabar Muslim Jama-ath and Mosque Management Committee is now well known to all Malayalees in Asia.